Det har kommit en våg av s.k. CEO-fraud, dvs mail där någon utger sig för att vara chef. Någon säger sig också ha väldigt bråttom och vill att den anställde omedelbart måste köpa iTunes presentkort. För att göra det hela mer ömmande, så säger sig någon sitta på sjukhuset hos en sjuk vän, så kan inte komma loss.
Givetvis är allt detta hittepå!
Du kan enkelt avslöja att det är ett bedrägeri då avsändareadressen inte tillhör någon på UmU. De jag har sett hittills har haft olika avsändare med Gmail-konton.
Svara inte på dessa mail utan kasta dem genast i papperskorgen.
Detta är ett redigerat exempel på hur ett sådant mail kan se ut.
In English: These mails are frauds and the scammers want you to buy iTunes gift cards. Please do delete this mails and put them in the trash. You can easily spot the fraud by looking at the sender's email which does not belong to UmU.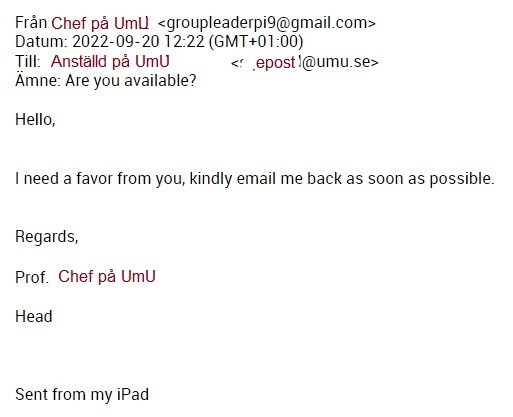 Om svarar till denna epost-adress kommer du att få uppmaningen:
Hello, I  need you to pick up some iTunes gift cards for me from a nearby store, there are some prospects I need to send these to but I have been busy with meetings and I haven't been able to get them myself. Let me know if you can get them for me right now so
I can give further details. I'll reimburse you.
https://it-status.umu.se/irt/wp-content/uploads/sites/51/2018/10/irt-bloggen-logo.png
0
0
Maria Edblom Tauson
https://it-status.umu.se/irt/wp-content/uploads/sites/51/2018/10/irt-bloggen-logo.png
Maria Edblom Tauson
2022-09-20 13:01:43
2022-09-20 13:11:37
CEO-fraud